24/02/2021
ELEO raises new investment from Lumipol Group
Back to overview
ELEO (formerly SPIKE Technologies) has attracted Lumipol Group as a new investor to realize its growth ambitions. Lumipol Group expresses its confidence and takes a minority stake in the Helmond-based battery manufacturer. This investment enables ELEO to continue its rapid growth in the coming years towards a leading player in the field of advanced battery systems.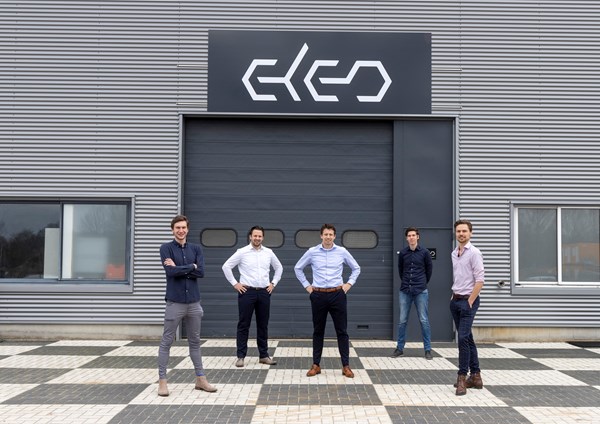 Advanced battery solutions
ELEO designs and manufactures modular battery solutions for various industrial applications. After the successful market introduction of its systems in 2020, ELEO aims to expand significantly in the coming years. Bas Verkaik, co-founder of ELEO: "In order to realize our growth ambitions, we will invest in the further development of our products, the expansion of our manufacturing facilities and strengthening of our team. Lumipol's investment is a great result from our search for a suitable investor and partner. Due to the expertise of Lumipol in our growth markets in combination with the extensive experience in the field of business management, we are confident that the cooperation with this investor will support us in the realization of our ambitious plans in the coming years."
Partner in sustainability
This investment ties in seamlessly with Lumipol's vision to accelerate sustainable powertrain solutions in various niche markets. Tom Krieckaert, CEO / Managing Director at Lumipol: "We believe it is important to approach the energy transition actively and next to the existing diesel technology, we see that the demand for drive systems containing batteries is increasing rapidly. What appeals to us is the great potential of ELEO's solutions in the development of electrical and hybrid applications. The participation in ELEO is therefore a great added value to the expertise of our businesses."
About ELEO
ELEO was founded in 2017 by former students of Eindhoven University of Technology, where the founders developed a revolutionary electric motorcycle to drive around the world in 80 days. Since its inception, ELEO has been committed to the mission of making high quality battery systems accessible to a wide variety of applications. Based on this vision, ELEO has developed a modular battery system that is distinguished by its advanced battery management system (BMS) and innovative thermal management system. This brings significant benefits in terms of safety, reliability and longevity, while the unique modular concept ensures that the batteries are cost effective for a variety of applications, from small to medium series. ELEO is located on the Automotive Campus in Helmond. More information can be found at www.eleo.tech.