20/01/2022
Get to know Peter Wezenbeek, Chief Scientist at Lumipol Group
Back to overview
Since October 2021, Peter Wezenbeek has started as Chief Scientist at Lumipol. Peter (also called Peer or Pete) not only has several months of Lumipol experience, but also 30+ years of experience in everything that has to do with electronics and software. We use his observations and insights to better define the innovations within the Lumipol companies, to realize them and where possible to create synergies between the companies. Time for a closer acquaintance with our technological conscience.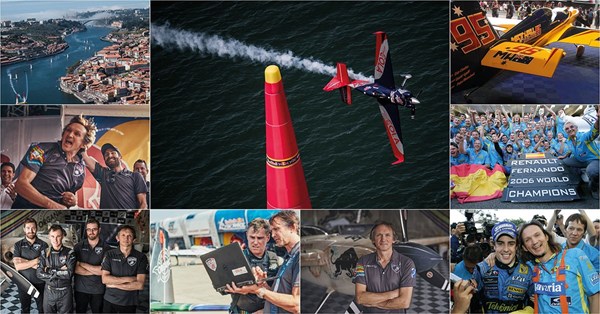 More than 30 years of technical experience all over the world. That requires further explanation…
"Then we will have to go back in time. I graduated from the Technical University in Eindhoven in 1989 and it is not a coincidence that Paul Krieckaert was my graduation supervisor at Gentec, Vialle's development department in the field of alternative fuels. Immediately afterwards, Paul offered me a job at Gentec, but in a different direction. Namely at the Electronics department to write software. Paul's vision at the time was that Control Engineers, Software Writers and Hardware Developers needed to know more about what an engine really does. From this role as Control Engineer I eventually progressed to Project Manager Heavy Duty Applications, so focused on the heavier engines.
After working at Vialle for over 8 years, I was offered a job at Zytek in England. I knew Zytek because we used their gear to power our engines. They also used this stuff for Rolls Royce and Bentley. When I was well and truly in England, I spoke to the boss of Zytek and he said: "great, so you come support our racing team?!" That was a total surprise for me, but super fun of course. I immediately started in the race team to support the teams for the 24 Hours of Le Mans. For this we have developed the engines and control systems for the teams from scratch. After that, I became responsible for the larger development projects within Zytek as Principal Development Engineer. But I missed the concrete and hard deadlines within racing in combination with the deeper technical issues."
And then you ended up in Formula 1.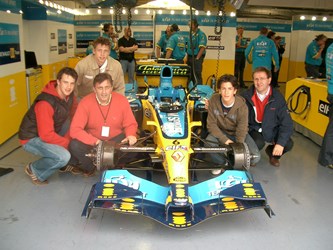 "I started writing letters to the race teams of Jordan and Renault F1 among others. I don't have much patience myself, so when Jordan didn't provide feedback quickly enough after the talks, I started at Renault F1 as a Control Systems Engineer. The first year within the test team. I traveled all over the world to optimize and test the engine and control systems in different conditions. This was really the cream of the crop: the technology and performance drive were really light years ahead of what I was used to. Then I switched to the race team where I started as Race Team Engineer for Fernando Alonso, who had just become world champion. That is the Champions League of course. You are traveling the world with the entire race team to defend the championship. I was responsible for all control systems on the chassis of Alonso's car during the races, so the setup of his car and how the car drives. In particular, the very quick analysis and passing on to Alonso what to adjust was a very cool, but also challenging combination. After we became world champions again that year, I quit my job to move to Australia. That has always been a dream for me and my wife Annet."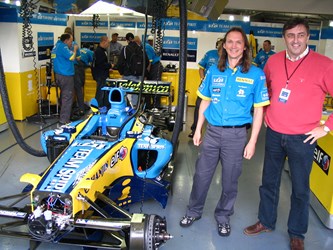 With a wink: "Of course Paul continued to follow me and he called me when I was in Australia. He was now CEO of Citadel Industries, which included a number of companies. Paul wanted to use the same control system and asked me if I wanted to develop it. This system is still used at WB Firepacks and NPS Diesel."
On the photos: Paul, Tom and Sven visiting Peer during one of the F1 races.
From car racing to air racing
"The project for Citadel went from full-time to part-time and so I started looking for other projects in Australia. One project I picked up is air racing. I was approached by one of the teams and in the end I built the data recording and I developed it into the aircraft. Due to the abnormal G-forces of an aircraft, I had to develop a completely different system for data recording, controls and analysis. Both the hardware and software. In the end I built in a well-functioning control system and I went to every race to perform the analysis. I became Raceteam Tactician and based on the data, I gave advice on how the aircraft could perform faster and better. This was crowned with winning the world title in 2019 after 5 years. After that, Red Bull stopped the air races."
I started searching for a new challenge and I ended up in Silicon Valley. This new job was disrupted by Corona. "I was supposed to move to North-America on March 1, 2020, but because of Corona I didn't get a visa. That caused a lot of stress and uncertainty. Managing a team remotely worked for a while, but after a year it drove me crazy. So I decided to take matters into my own hands to get in touch with Paul. Before I knew it, I also had a conversation with Sven and Tom and I was appointed Chief Scientist at Lumipol Group. With a very clear and deep focus on technology."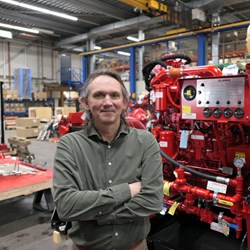 What is your role as Chief Scientist at Lumipol?
"I know a lot of the companies and the different techniques. It is very nice to see the diversity, but also to discover the links. I have made a technical roadmap of this, with the most important topics for each company. I can pick up these topics one-on-one and ensure that the milestones are also achieved. My approach is always hands-on and supporting. An example is IODA, data monitoring, at NPS Diesel. That really needs a push, so I'm now actively developing the hardware and software for it. The aim is to have an example available at the beginning of 2022, so that we can start a pilot and test how the hardware acts in various situations and circumstances."
"In addition, I will be working on the hydrogen project at NPS Diesel, the WB-Can controller at WB Firepacks, I will be at Avular one day a week and I am working on the general roadmap. So what do we want to see within Lumipol companies. Consider, for example, electrification and wireless data monitoring. My role is then to push the projects within the companies and also to make the connection between the companies."
Champions League
It should be clear that Peter has settled in control systems at the highest level and is now deploying this within the various Lumipol companies. We are very happy with the arrival of Peter, both as a go-getter, but also to keep more focus on new technical developments for the next five years. Questions about the technology within Lumipol or do you want to know more? Contact us!